WE ARE COMMITTED TO CLIMATE PROTECTION AND SUPPORT HIGH-QUALITY PROJECTS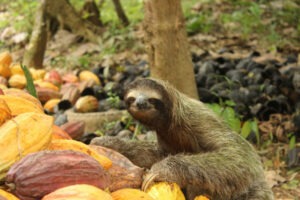 In the provinces of Panama, Darien and Veraguas, former fallow land and extensively used cattle pastures are being reforested with predominantly native tree species and converted into mixed forests.
The project combines sustainable timber extraction and cacao cultivation with biodiversity conservation and forest ecosystem restoration.
CO2OL Tropical Mix was one of the first reforestation projects to be successfully certified with the Gold Standard for land use and forestry projects; the cacao areas are the first agroforestry areas to be awarded this standard.