With medialoopster Media Asset Management, we are presenting impressive new options this year at the NAB, which are made possible by extensions and integration of AI engines. At booth SL 14813 of ToolsOnAir we will show face and person recognition, new functions around transcription and improvements for working with social media video formats.
medialoopster news at a glance: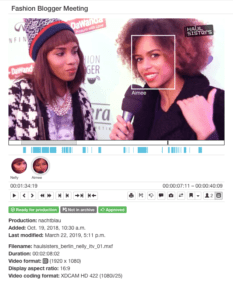 Face recognition
For face recognition, we rely on the on-premise AI engine ReCAP and the Cloud AI services provided by aiconix. medialoopster can use the full scope of both AI-supported content analysis. Custormers can decide whether they want to run the services on-premise or in the Cloud.
The data provided by the engines for face and person recognition is displayed frame-accurately in medialoopster so that people can now be searched specifically. In the video player, the recognized persons are marked with bounding boxes and names. The colored sections below the player timeline provide visual feedback on the time periods in which the respective person is included in the video. In addition, persons found in the respective video are represented in round pictures in this area.
Export of transcripts and subtitles
The already existing capabilities for automatic transcript generation were further expanded and a generic option for exporting subtitles using the medialoopster XML processor was created. In addition, transcript metadata has been more tightly integrated with medialoopster metadata management, ensuring that transcripts can be inherited when exporting files from Adobe Premiere Pro.
Working with project assets
The detail view of project assets has been completely revised. It now offers a better overview of the media assets used with an integrated preview function. Moreover, the entire content of a project can now be added directly from the project asset view to favorites lists and thus transferred to the editing system.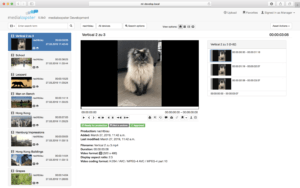 Preview Social Media Formats
The ability to display different aspect ratios for video assets in different social media formats has been extensively enhanced. All common video formats for social media platforms are now recognized and displayed correctly in the preview browser interface.
Share material collections across sites
An improved multi-site workflow extends asset sharing in different medialoopster locations. In the future it is possible to share an entire material collection, i.e. the content of favourite lists. Furthermore, the task management of the medialoopster engine has been improved. When sharing assets, the type of source production now is irrelevant.
Other Enhancements
Improved display of custom metadata in Asset Detail View.
New menu for favorite list editing features.
Enhanced configuration options for FTP servers in the Range Configuration.
API extensions.
Improved integration of KYNO for ingesting videoclips in medialoopster.