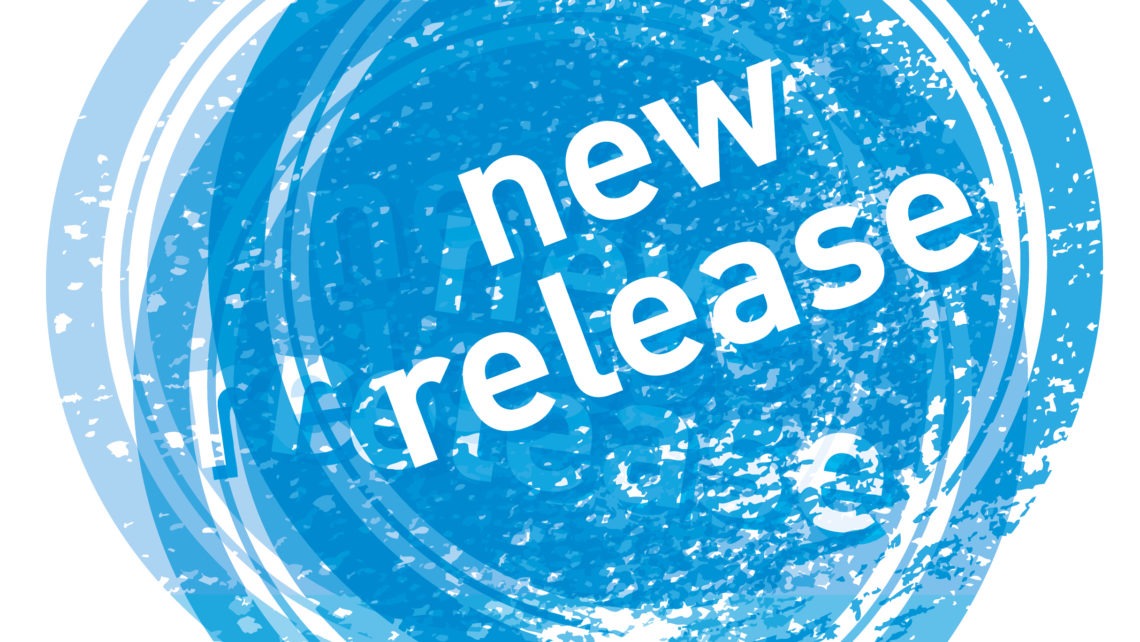 The current medialoopster release focuses on expanding the processing of content analysis data for face, person and speech recognition.
In addition, the display of project assets has been improved and multisite workflows expanded.
HIGHLIGHTS
Content Analysis
With the integration of the on-premise AI engine ReCAP from ToolsOnAir and the Clound AI platform aiengine provided by aiconix, medialoopster can use the full potential of AI-supported content analysis. medialoopster users therefore benefit in the current version from extended possibilities of using content analysis data from AI engines.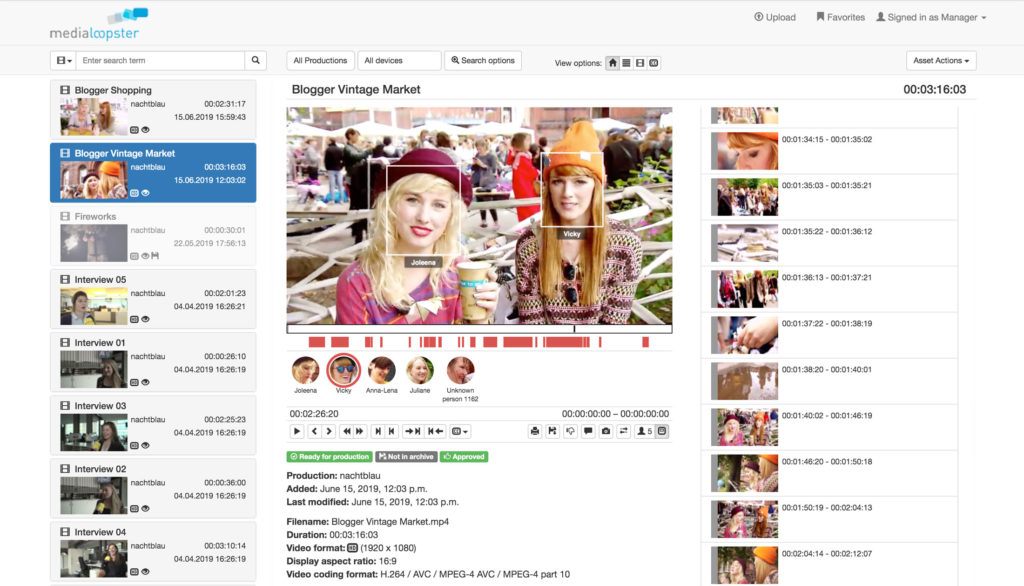 The data provided by the engines for face and person recognition are displayed frame-accurately in medialoopster and made searchable. The recognized persons are marked with bounding boxes and names in the video player. In addition, there are comprehensive editing and management functions for this data.
Transcripts and subtitles
The already existing capabilities for automatic transcript generation were further expanded and a generic option for exporting subtitles using the medialoopster XML processor was created. It is now also possible to export subtitles in non-XML formats (e.g. SRT).
Transcript and speaker metadata have also been more closely integrated with medialoopster metadata management. This metadata can now be applied to newly created content without the need for reanalysis.
Project assets
The detail view of project assets has been completely revised. It now offers a better overview of the used media assets with an integrated preview function. Furthermore, you can now add content to favorites lists directly from the project asset view.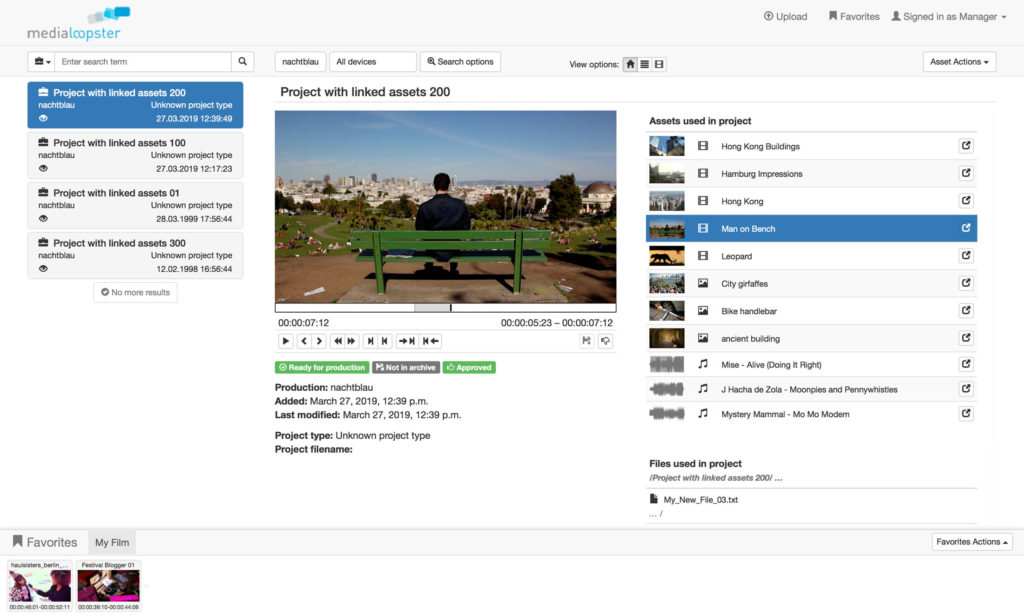 New actions for favorites lists
From now on, you can define any number of server-side export destinations for favorites lists. This allows, for example, Hires video content from favorites lists to be merged by external render engines.
Additionally, all assets used in a favorites list can now be shared with other productions in a single step.
These and all other favorite list actions are now grouped in a new menu.
Display of different aspect ratios
The ability to display different aspect ratios for video assets in medialoopster has been extensively enhanced. All common video formats for social media platforms are now correctly displayed in the browser interface.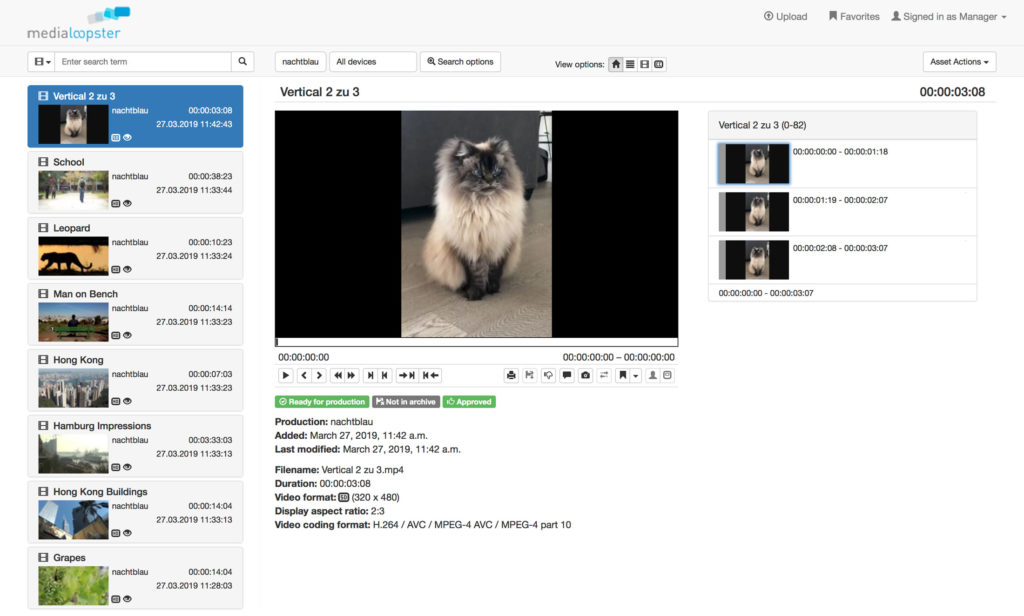 Multi-Site-Workflows
The sharing of assets in medialoopster environments with multiple locations is greatly facilitated by a new function for sharing the content of favorite lists. In addition, the task management of the medialoopster engine has been improved so that when sharing assets, it no longer matters which source production the assets to be shared belong to.
Display of custom metadata
The display of custom metadata is now even more customizable: Metadata sets can be labeled and displayed in a configurable order in the user interface.
FURTHER IMPROVEMENTS
The configuration options for FTP servers in the device configuration have been extended.
The default language for the Elasticsearch search index is now system-wide configurable.
The configuration for device filters is more flexible and transparent.
The watchfolder behavior during transcoding imports has been improved.
For metadata exports, a file extension can now be defined for the sidecar file.
The default behavior for setting the approval status during asset import is now configurable.
Log files can be stored in a central location.
API extensions.
BUG FIXES
Start timecode is not retrieved for certain Quicktime formats.
In some cases, the combined search for keywords does not provide comprehensible results.
In some cases, the display of the media player jumps when using keyboard shortcuts for playback control.
When searching for keywords, the search is not executed automatically.
When deleting shared assets, the proxy directory remains.
Single quotes in asset metadata can occasionally prevent asset details from being displayed.
Video rotation is not always interpreted correctly.